1. Lost data means lost clients
When your computer fails, what happens to your data? Did you back it up? As a photographer, losing your work can not only result in lost images, but it can directly impact the reputation of your business. If disaster strikes and your entire portfolio is wiped out, what would happen to your commitment to clients? Data backup is of the utmost importance for creative professionals such as photographers, videographers, musicians, designers – anybody whose livelihood depends on keeping clients happy. ToughTech is the perfect solution for quick, on-the-go backup, and you'll rest easier knowing you can always get your hands on critical data.

2. ToughTech Duo can create two copies at the same time
ToughTech Duo offers RAID configurations to complement the JBOD configuration offered by the other models in our ToughTech line. What does this mean? It means you can make two copies of your data at the same time. Using the 3-2-1 Backup Rule, photographers can create two copies of their portable backup and take one to an offsite location giving them the peace of mind they need to get their work done. For a chance to win one of our ToughTech models, enter our 2015 Photo Contest!
3. ToughTech is portable, easy, and rugged
All of our models are designed for ease of use, compact size, speed, and durability. When you're traveling to get the right shot, you need a backup option that doesn't weigh you down, cause you any headache, and is rugged enough to come with you to demanding photoshoots. Throw an aluminum ToughTech in your bag and know your work will be secure. Our ToughTech m3 comes with USB 3 for fast data transfer and bus power, and can be configured with a solid state drive for the fastest possible data backup.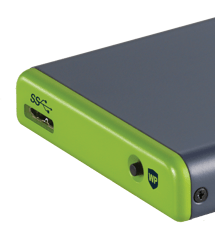 4. ToughTough offers encryption options for on-the-go
These days, no one should leave their work unprotected. With cloud services regularly breached and proprietary work constantly exposed, using an encrypted drive to safeguard your data is a no-brainer. Our ToughTech Secure m3 offers military-grade data encryption, eliminating the risk of the cloud's potentially unsecured data centers scattered across the globe. Drive storage keeps your data in your hands, and prevents prying eyes from getting access. Additionally, hardware encryption transfers the heavy lifting of the encryption process from your PC to the ToughTech enclosure, making the process faster and easier on your computer.
5. ToughTech can lock down data for read-only
With ToughTech's handy WriteProtect feature, keeping your data from being accidentally modified is as easy as the click of a button. ToughTech allows users to switch the entire drive into read-only mode so that data can be exchanged with a client or colleague quickly and easily, but without worrying about the risk of data corruption.