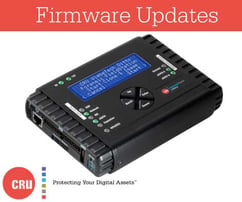 Did you know that CRU's Ditto Forensic Fieldstation is actively developed and is regularly updated via new firmware releases? Each release is free, and you can sign up for an email notification to alert you when a new release comes available.
Firmware updates for the Ditto often include user interface tweaks that make the Ditto easier to use, the occasional security update, and sometimes will even include brand new features. In May of 2014 we added the logical imaging feature to Ditto, free to everyone without having to pay an upgrade fee.
The easiest way to update your firmware is to make sure that your Ditto is connected to a network with Internet access. Log into your Ditto's browser interface and navigate to the "Utilities" screen. Copy the link to the latest firmware from your email notification or from this page and paste it into the top text field. Click the "Firmware Upgrade" button. When it asks you to confirm the retrieval of the firmware file, click "Continue".
If you would prefer to update your firmware by downloading the firmware file to your computer or to upload it directly to the Ditto via a USB thumb drive, please download the Ditto Forensic FieldStation User Manual for specific directions.
Ditto will download the file to itself and will then ask you to confirm the upgrade. After the upgrade is completed, the LCD panel on the Ditto will ask you to reboot.
Firmware updates allow you to take full advantage of your Ditto Forensic FieldStation, so sign up now for email notifications!