Holiday Giving Leads to Spring Cleaning
If you're like us, the holidays and gifted goodies means out with the old and in with the new. While selling a computer or drive is a great way to get rid of old stuff, it can potentially open yourself up to a whole host of cyber security risks, including identity fraud.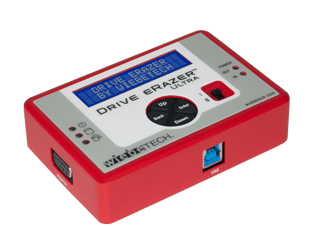 We purchased twenty used hard disk drives from eBay and used basic file recovery software to examine the drive contents. What we found would have been very damaging in the wrong hands. We wrote up our method and findings in the white paper "Hard Drive Security Study."
Drive eRazer™ Ultra Completely Erases Drives
With the CRU® WiebeTech® Drive eRazer Ultra, your sensitive data can be completely deleted. Drive eRazer Ultra actively sanitizes drives by writing over every single bit. Simply deleting a file or reformatting a drive does not guarentee that your data cannot be restored. Drive eRazer Ultra, which requires no computer to operate, is simply attached to a drive and operated via its LCD screen.
With a dozen different preset erase procedures, including US Department of Defense graded methods, Drive eRazer Ultra offers everything you'll need to ready a drive for resell. Don't risk the data you create in your personal life or business – the messages, photos, legal documents, tax returns – simply because you don't have a reliable method to erase your drives. Drive eRazer is a rugged, handheld, and easy to use device designed to offer you peace of mind.