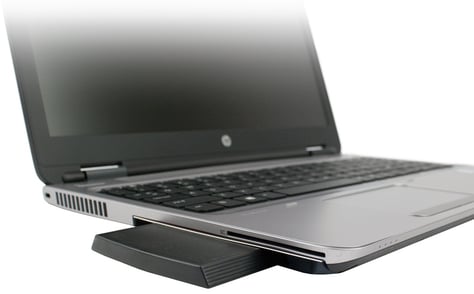 We have been spending time this year at technology events that are taking place on US military bases, usually in partnership with HP or Dell, to make sure our customers are aware of newer products such as our DataPort DP27. For the next couple of weeks, we'll be in Germany at a variety of events on US bases located there.
CRU recently attended a technology and cybersecurity event at the Joint Base Lewis-McChord (JBLM) in the state of Washington, along with Hewlett-Packard, to show off the new DP27 for HP's ProBook laptops. Since 2010, the facility has combined the U.S. Army's Fort Lewis and the U.S. Air Force's McChord Air Force Base.
Joint Base Lewis-McChord serves as a training and mobilization center and its location enables rapid access to deep-water ports in Tacoma, Olympia, and Seattle for equipment deployment. Units can be deployed for humanitarian and combat purposes from McChord Field and individuals and small groups can also use nearby Sea-Tac Airport.
As at JBLM, the military's digital assets often contain highly sensitive data that must be safely stored. At the same time, equipment that creates, records, and stores these assets must be mission-ready—operable and ready for transport on a moment's notice. Maintaining frequent and routine accountability of the data and storage devices, along with managing the location and readiness of this equipment, is a major security issue and an ongoing logistical challenge.
CRU removable drives have become must-haves in these environments. CRU's lockable drive bays, integration with popular computers and workstations, and rugged drive carriers—all of these attributes contribute to a smooth workflow for physically securing data.
As the world grows increasingly more networked, and technology becomes more sophisticated, there will only be more and more digital information the U.S. military can collect, protect and store. We're happy that we can do our part to help ensure it's easily shared with key decision makers who need it most, when they need it.