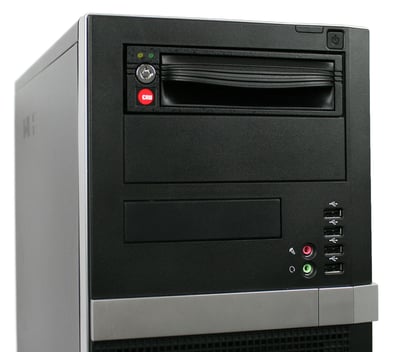 Laptops and PCs continue to shrink, but storage space has never been so tight. With higher resolutions becoming widely available, video, photo and music files are growing even larger. And what do you do with all these massive files if you want to keep them backed up?
Our RTX or DataPort series of products provide excellent storage solutions. Government agencies and other organizations that need high-quality, removable drive enclosures to store, transport and protect their data rely on our DataPort 10. Built to store all of your most important data, RTX products provide a convenient backup system for any computer user who wants quick and easy additional storage. Who doesn't want that?
But don't take just our word for it. Take it from a couple of satisfied customers.
"People think their data is safe when they use regular consumer drives…. After experiencing a few mechanical failures as well as "bit rot," I decided to only go with enterprise grade drives--no more My Books and others. After that pricey decision, everything else pointed to needing (CRU's) removable products. I sure as heck don't want to burn up those drives, and I want to run diagnostics periodically. Anybody who is serious about their data should use high grade enterprise," says Mark, who uses CRU's DP10 and RTX products to safe keep photos, videos, financial files and some of his scientific work.
"I've had an RTX220 (the USB 2 version) and two RTX100-3Q enclosures for about 4.5 years. I'm replacing the RTX220 with the USB 3 version and adding another RTX100 to the mix (used as backup drives for individual computers so I can replace the hard drives in them every 2 years). These enclosures and this rotation schedule has resulted in no drive failures or data loss at all. Prior to that, my LaCie drives would fail at irregular intervals. When an internal drive and backup drive both failed within a week and I had to order a backup of all my data from my cloud backup service, I decided it was time to take my storage needs much more seriously," says Tom.
Of course, it's not just our customers who are seeking back up solutions. The need for back up is booming, according to the International Data Corporation's most recent stats. The backup market is growing by 11.5 percent year-over-year to $871 million during the second quarter of 2016.