A good friend of mine, Jeff, is a PC modder. He tricks out PCs, turning creative ideas for the cases into high-performance machines that, at first glance, you wouldn't recognize as a computer. He periodically enters them into contests at LAN events in Portland, and I'm always amazed at what he creates. You can view the step-by-step process, and his project archive, at his blog. You can see his most recent build here.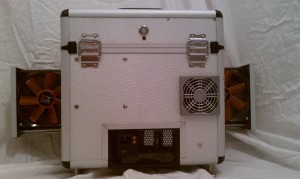 Jeff also has a sophisticated home entertainment network, where he has a vast collection of TV shows and movies in HD. Yes, the amount of hard drive space required for that collection is enormous. We're talking over 20TB.
Yesterday, when we launched our new CRU® DataPort® 41, this reminded me of Jeff and his huge movie collection. This might be a perfect product for him, and people like him, who have lots and lots of data on their system. They could use bare drives to back up their data and increase their storage, instead of continuing to just add more enclosed drives. The DataPort 41 gives you the convenience of four independent drives in a single bay, with the flexibility to use whatever drive you want in there. You can simply swap out the bare drives as needed.
The DataPort 41 holds four removable 2.5-inch hard drives – either SATA or SAS—in a single, standard 5.25-inch computer bay.
Open a drive bay by pushing a button to easily add, remove, or swap a drive or SSD. No need to open the computer case or remove the DataPort 41.
The DataPort 41 is a performance dream as it lets each drive operate at a fast 6Gbps.
There's more detail on the product page if you're interested in learning more.