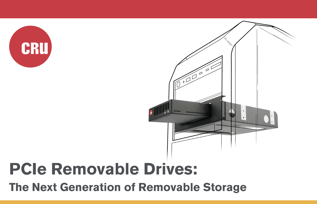 For years, CRU has been supplying removable drives for HP, Dell, and other computers purchased by Federal agencies, military organizations, and government entities around the world. For the most part, our customers have been using SATA hard drives and SSDs in their removables, though, we still provide removable devices to organizations with legacy applications that use, for example, SCSI and IDE interfaces.
The reasons are always the same: our customers want a simple, rugged solution for data security and/or data transport.
As storage technology continues to evolve, so have CRU removable drives. The most recent innovations in the world of storage have been with speedy flash memory and SSDs. While there are SSDs that use the SATA interface, PCIe/NVMe SSDs have been used for a few years in laptops and other computers. These drives are either soldered directly to the motherboard or installed into a PCIe slot. PCIe/NVMe drives come in various physical sizes and capacities and have about an 8x speed advantage compared to their SATA counterparts, so naturally, people want to take advantage of the performance gains.
Just like with their SATA drives, people require easy removability of a PCIe drive for security or transport. After all, faster speeds and new technology don't eliminate the basic need for data security or to efficiently move large amounts of data.
And as regular removal/insertion cycles become part of their PCIe SSD workflows, people want to protect the drive as it is handled, moved, and shipped.
Today, CRU already has its first removable PCIe drive on the market, with native PCIe connectivity for the highest of throughput and read/write speeds.
CRU's PCIe removable is called the Data Express QX310 and is built for years of use with the same rugged characteristics as all of our other removable drives. Along with its durable componentry, the QX310 accommodates either M.2 or U.2 form factors.
SATA hard disk drives and SSDs are going to be with us for a long time, but as users and the industry begins to shift, we are ready. To find out more, check out this ebook.