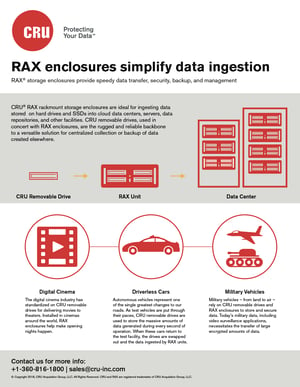 Intel announced earlier this week it will acquire Mobileye, a self-driving vehicle company in a deal valued at about $15 billion, as the tech giant pushes deeper into the growing autonomous vehicle market. Founded in 1999, Mobileye specializes in creating chips and software for self-driving vehicles, such as data analysis and mapping for autonomous systems.
Cars built in the next few years will have computing power akin to smart phones, and they'll become increasingly more complex as automakers introduce more self-driving technology. Krzanich estimated the self-driving vehicle market will reach $70 billion by 2030. Intel views cars as "data centers on wheels," generating as much as four terabytes of data a day, or about 3GB/minute.
CRU is currently providing removable drives that are installed in self-driving cars, storing all of the data collected during the car's journey. When back at the lab, the removable drives are put into a CRU RAX device for data ingestion and analysis.
CRU removables have long been used in similar data collection/ingestion scenarios, whether they're installed on aircraft for data collection or in other vehicles (or even stationary locations) for collection of, say, video streams.
The large amounts of recorded data need to be transferred for analysis and long-term storage and backup. Again, this is executed most effectively with CRU RAX storage enclosures used for ingestion.
Whether the application is as forward-looking as autonomous vehicles or as standard as security video, CRU removables are always a component to efficient and secure data transfer.