Don't overlook the importance of data backups during tax season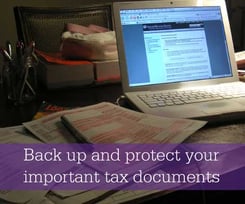 Ready for tax season to be over? Tax season can be nothing less than taxing! With meeting deadlines, preparing financials, and getting documents- SMB owners can forget the importance of safeguarding all the data they have spent weeks preparing and accessing. Tax season can be a great time to reassess the steps you are taking to protect your most critical and sensitive data.
When was the last time you backed up your company data? If you don't have a regular backup schedule in place, tax season can serve as a reminder that you need to regularly back up your data. Creating and testing a formal data protection plan is often overlooked by SMBs because they don't expect a big data loss to happen. According to the Removable Drives Have Your Back(up) infographic CRU published earlier this month, 53% of SMB companies have experienced data loss within the last 12 months. Having a data recovery plan mitigates the risk and ensures that your company can operate without interruption of business processes.
So let this season be the season of relief. Relief of knowing that your data—the backbone of your operation—is safe and secure from hardware failures, malware and natural disasters. Be sure to implement and test a data recovery plan—and reassess it every year post tax season.
Ready to get started? Check out the booklet Introducing Data Backup for Small Businesses for some great tips and best practices.
Photo Credit: blmurch