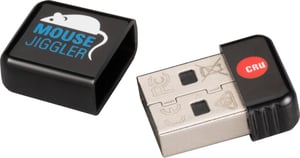 I'm sure like millions of others around the world your new office is, if you're lucky, your dedicated home office and if you are not quite as lucky like me, one half of the dining room table with the other half dedicated to my wife. In the rush to move me and our employees from their regular offices to their new home-based workspaces, some employees literally relocated their desktop PCs to their homes or their laptop that usually only travels between conference rooms and their cubes to their home offices.
An unintended consequence of migrating these computers is that the provisioned security policies like screen or login timeouts that are designed for the workplace or even coffee shop may be frustrating when working in the security of your own home. I recall once being given a laptop that would time out and go to sleep after five minutes of idle time. This is generally not an issue in a large cubicle or office environment. But it's annoying to have to log back in and perhaps restart a VPN or other processes when I just went to make a cup of tea in my own home.
We're huge fans of data security, as you might imagine from our CRU Data Security Group name, so don't get me wrong here. However, our USB Mouse Jiggler can help those whose computers go to sleep or time out on them too quickly.  We don't advocate using the Mouse Jiggler as a way to thwart security measures your company has put in place, rather we are suggesting this as way to help you be more productive only when you are confident you are in a secure location like your home for extended periods.
Mouse Jigglers pop into a USB slot just like a thumb drive and look like a mouse to the operating system. When a computer is apparently idle, the Mouse Jiggler moves the cursor ever so slowly, keeping the computer from sleeping. Which lets you go check on your children, make a sandwich, or any number of things—all while staying productive.
If you're among the fortunate who can continue to work remotely and are staying healthy, you might want to check out the different Mouse Jiggler options. (We should be well-stocked in online retailers—we can also accept orders in our online store, though there may be slight shipping delays as we are operating with minimal and reduced personnel.)
Be well!