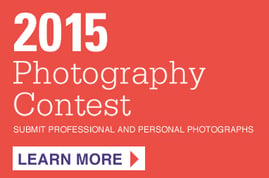 We are so excited to announce the opening of the 2015 Photography Contest! It is one of our favorite times of the year. Amateur and professional photographers are invited to submit their photographs from now until September 15, 2015, at www.cru-inc.com/photocontest. Prizes include storage backup devices—same ones the pros use to protect their life's work.
This year's photo contest categories include:

- PEOPLE. Capture the portraits that demonstrate the breadth of expression and emotion the human spirit can evoke.
- PLACE. Show us where you live and where you've been. Give us insight into what makes these places special.
- NATURE. Mountainscapes, gardens, waterways, weather, the sky-choose your best shots to illustrate the grandeur of nature.

Participants can compete for the juried award to be chosen by the panel of judges and for the people's choice award, which will be given to the image with the most Facebook likes.

Last year's photo contest had over 550 submissions and was judged by industry professionals Zeb Andrews, Bruce Boyajian, and Jamie Diamond. Winners collected CRU's photo backup gear such as the RTX220-3QR, ToughTech Duo and ToughTech m3.

For the complete set of rules, vote for your favorite pictures and more information please visit www.cru-inc.com/photocontest.