At CRU®, we want to make sure that the products we produce are safe for customers to use, that they operate well when around other products, and don't cause issues for other products. To accomplish these goals, we make sure our products comply with various international standards and our compliance process involves product design, electrical and mechanical engineering, testing, and evaluation.
I spoke with John Gaittens, a long time compliance engineer here at CRU, who shared some of his experiences.
"Compliance is sometimes a moving target," John said. "We begin considering compliance and safety early on in product development, but it's hard to predict how things will actually play out until you put a product into a testing environment."
Countries around the world adopt compliance regulations and will often use agencies in charge of approving products before they will be allowed into their country. These regulations can change without much notice, forcing us to re-test and sometimes tweak products late in the game.
"Keeping up on all the regulations, and how they change, is definitely something that keeps my job interesting," John said. "That's one of the things I like about the world of compliance."
CRU takes product safety and quality very seriously, so our engineering department plans for compliance early in each product design cycle. "We spend a lot of time considering what components to use, how the materials we use will impact safety, and making sure that compliance testing goes as smoothly as possible," said John.
Compliance has certainly become more complex over the decades, as John notes. "Each time there's a new connection type, like USB 3.0, SATA 6G, or Thunderbolt™, it immediately impacts product design, safety, and compliance. New features often require learning how test standards apply and can require the purchase of expensive test equipment."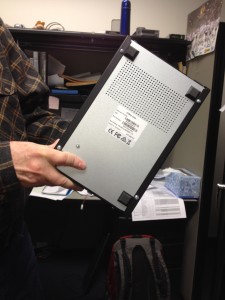 There's also the balance between designing products that are easy to use, and compliance and safety concerns. "One time we designed a product with thumb screws, because we wanted customers to be able to swap out their drives easily. But then we realized that that may make it too easy for customers to get inside the product. So we had to modify the design slightly to balance the requirement for easy access against the need to protect our customers from potential hazards."
"Compliance is a very broad thing," John said, holding up the underside of an RTX220. "The size of these holes was defined in regulations to make the product safer. Those are the types of things we accommodate in our product designs, yet every once in awhile, an issue is only identified during our testing cycles, which of course causes us to go back and rethink our approach to how we need to build and deliver the product."