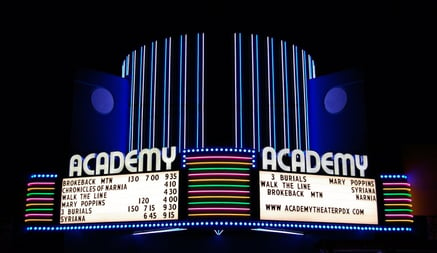 Many of us are thinking about the movies this week. Potential Oscar winners. Past Academy Award recipients. Timeless classics. Maybe even a few awful flicks we just can't forget.
But unless you're in the theater business, you're probably not thinking about the transport, storage, and security of movies. Dannon Dripps, general manager of the Academy Theater in Portland, Ore., says it's his job to think about those things every week. And he shared some of his behind-the-scenes operations with us.
The Academy Theater was built in 1948, closed in the 1970s, and was resurrected in 2006. It is one of several second-run, or intermediate theaters, that charges less ($4 for adults and $3 for kids and seniors) and gets titles a bit later than the Regal or AMC theater chains. As such, Dripps says every Monday, he gets a rundown from their booker on which titles are available. With 15 screens, he says he aims for a mix of mainstream, independent, family and repertory titles. After he chooses the titles, the CRU hard drives arrive via FedEx or UPS in time for the week's first screenings.
Dripps then takes the hard drive, ingests the film into the Academy's digital projectors, which are essentially computers with large amounts of hard drive storage. Dripps and others build out the film for showing as we in the audience will experience it, including queues to dim the lights, turn on the projector, play trailers—all automated at the beginning of each day. All of the films are encrypted to prevent piracy, so keys are provided to the theater to unlock each film.
Dripps estimates it takes on average about 15 to 20 minutes to upload each movie. Animated films can sometimes be larger than the 120 gigabytes of data required per hour of movie. The Academy Theater does not play 3D movies, which are larger as well. Even after the film is ingested into the projection system, they keep the hard drive enclosures through the run of the movie, just in case it needs to be reingested.
Dripps says the distribution company makes returns easy, with return labels included with the package. He says they stick the movie and its enclosure back in the box, ziptie it and hand it off to a UPS or FedEx driver. He says he can focus on the technical aspects of movies so the rest of us can enjoy watching them and maybe eating some popcorn or pizza too.