What happens when we lose a hard drive in one of our own servers?
It turns out, not much
Just recently I attended a weekly company progress meeting. In it, one of our IT guys was rattling off some of the activity for the previous week, "we renewed a couple of software licenses, replaced a computer in production… oh, and a drive failed yesterday in our server, and we replaced it. That's about it."
The team mostly said nothing, and waited for who was going to talk next.
It struck me really hard that in another company losing a hard drive could be a catastrophe. Despite this, many companies – especially in small to medium sized business – still have a server that includes a single point of failure. If you lose a drive that doesn't have redundancy, it means down time.
On a long enough time line, every hard drive will fail.
Losing a drive is a big deal in many situations. It can mean down time and frenzied recoveries. But if you plan for it, losing a hard drive can be a complete non-event.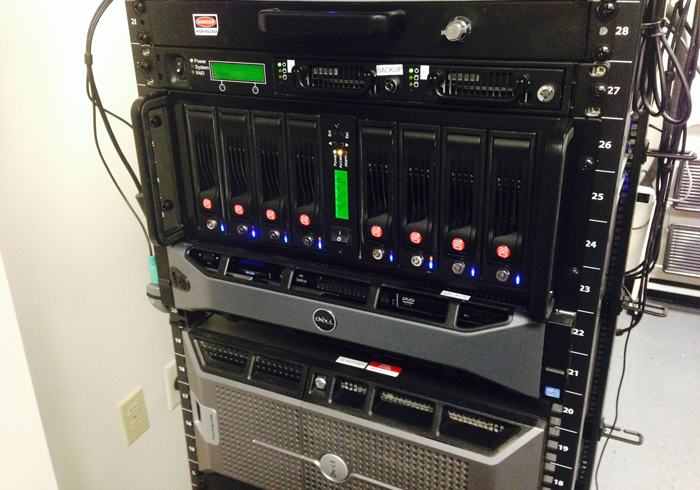 One of our file servers. This one is an
8 bay RAX IR
. It's connected with iSCSI to our server with nothing but an Ethernet cable. When a drive fails, it's replaced and everything continues as if nothing ever happened.
Configurator v4 software adds features to our RAX or RTX line. With Configurator, an RAX or RTX RAID can trigger an email or text message to be sent if an alarm (such as a failed drive) goes off.
This is why RAIDs with redundant data are amazing. If – no, when – a drive fails, the entire volume stays mounted (the computer really never knows the difference), the server stays online and it barely becomes a meeting note.
You can have this level of confidence, too. I don't want you to think I don't mean you should not have to back up! You should do that too. Any company should plan for common events like disk failures, but also for less common events, such as fires, floods, and disk theft. There are ways to plan for each. We wrote a nice Backup Booklet for SMBs that's worth going over.